Lil' Wayne and Shanell news stories posted by our user community.
Posted 4 years ago

Credit: Getty Images Young Money is best known as the home to rappers Drake, Nicki Minaj and founder Lil Wayne, but if pop singer-songwriter Shanell has her way, her latest song "2 Seconds Too Late" will expand the label past its hip-hop roots. A former songwriter for Beyoncé, Ne-Yo and Jennifer Hudson, among others, Shanell was a dancer on Ne-Yo's tour when Lil Wayne signed her

...

Every successful emcee has a posse- it just comes with the territory. Some posses are just for vanity and make the star shine even brighter. Others are talent-packed all-star teams with each member contributing equally. Today we pit two of the best posses, TI`s Grand Hustle and Lil Wayne`s Young Money, against each other. Drop your thoughts in the comments about whose crew goes harder.

Related Links:
Lil' Wayne
,
Omarion Grandberry
,
T.I.
(2015),
Aubrey Graham
,
Young Dro
,
Jae Millz
,
Tyga
,
Mack Maine
,
Nicki Minaj
,
Lil Twist
,
Lil Chuckee
,
Gudda Gudda
,
T-Streets
,
Aubrey Graham and Nicki Minaj
,
Shanell Woodgett
,
Lil' Wayne and Shanell
,
Aubrey Graham and Shanell
,
Lil' Wayne and Nicki Minaj
,
Young Money (group)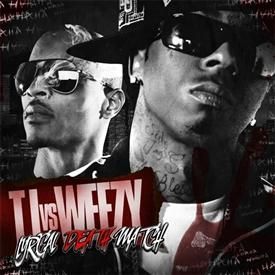 Wayne's newest female rapper on the label Nicki Minaj is apparently p*ssy because she keeps getting the backburner treatment.
Word has it Nicki was promised by Weezy and her management that she would be able to howcase both her singing and rapping skills. They've yet to do that because supposedly Wayne is giving all his time/money/resources to his new girlfriend–D.Woods'

...