Bulent Inal and Melis Tüysüz news stories posted by our user community.

Bülent İnal and his eight-month pregnant wife Melis were busted buy the paparazzi in Yeniköy shopping in a Pastry shop in the neighborhood.Melis looked fashionable in "Spider Web" short dress with a simple ponytail and a blck handbag.The couple declared that they hadn't pick the baby's name yet.Bülent also said that there's another season of "Bir Çocuk Sevdim".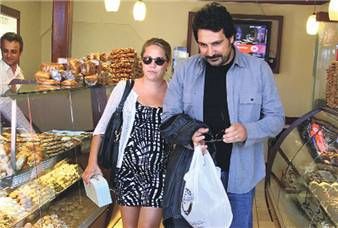 The paparazzi caught Bülent Ýnal and his wife Melis Tüysüz with her big bump on the belly shopping in Istinye Park. "Marriage is going on great, thank god. We're looking forward to a healthy baby boy." Inal said. "And pregnancy is going on good too, she has been exercising continuously for the baby, as well as I exercise by walking and we don't like to think about the names before

...