Meaning Of Life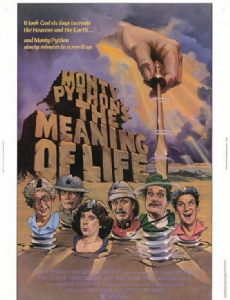 Monty Python's The Meaning of Life
, also known as
The Meaning of Life
, is a 1983 British musical-sketch comedy film written and performed by the Monty Python team, and directed by one of its members, Terry Jones. Unlike
Holy Grail
and
Life of Brian
, this film's two predecessors, which each told a single, more-or-less coherent story,
The Meaning of Life
returns to the sketch comedy format of the troupe's original television series and their first movie from twelve years earlier,
And Now For Something Completely Different
, loosely structured as a series of comic sketches about the various stages of life.
Wikipedia
Movies You Weren't Supposed To See As A Kid (But Watched Anyway)
You're a child or young adult, you're watching television and you stumble upon a movie that you're definitely not supposed to watch. Yet...
---
0 comments